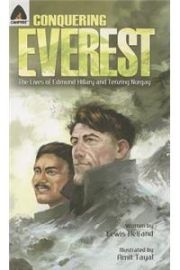 CONQUERING EVEREST :
The Lives of Edmund Hillary and Tenzing Norgay
PUBLISHED BY : Kalyani Navyug Media Pvt Ltd
This is an inspirational story about the Legends-Edmund Hillary and Tenzing Norgay. This story begins with Tenzing Norgay telling his wish to climb Mt.Everest from his childhood to Edmund Hillary. Then Edmund Hillary tells his childhood story to Norgay.
This story may be little confusing but it is quite inspirational. It tells us about the great mission to get to top of the world's tallest peak-Mt.Everest. Lots of people lost their life during this mission. It also gives us more information about the Sherpas,Mt.Everest and other people who climbed the peak after them.
Through this story we could understand that if we work really hard anything can be possible. I recommend this book for all the ones who enjoys reading.
AKUL RAJEEV