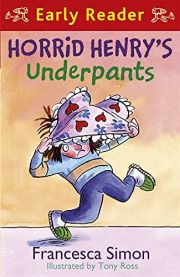 Horrid Henry's Underpants
This is a marvelous book especially meant for
young readers.By reading the title 'HORRID' i thought that it is a
book based on adventures or horror story.
I enjoyed reading this book. I
t's a story based on a boy named Henry. His Great-Aunt
thought that he was a girl & on his birthday's she sent gifts like
dolls....on one of his birthday she sent a pink girl's under pant
decorated with loves and arrows.By hearing this we can imagine what
will be the reaction of the boy.It is explained in this book very
beautifully and the images shown in it was very nice to see his
expressions towards it.I really liked this book very much.
Sreya S Nair
Book NO:-G1189
Card No:-s5571