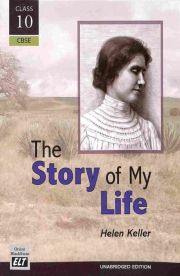 'The Story of My Life' is the autobiography of Hellen Keller. She lost the power of eyes and ears in very small age because of a brain fever. She wrote this book when she was studying in a college. She was born in America on June 27 1880. By the help of her teacher named Miss Sulivan, she learned everything in the world. Her father's name was Captain Arthur Keller and her mother's name was Katherine Adams Keller. She also had a sister named Mildred. Leaving this book, she has written 10 books.
This book is published by Orient Blackswan for Class 10 but all can understand it.
This is a wonderful inspirational book for the children.
Prajula Sivan S, VI A