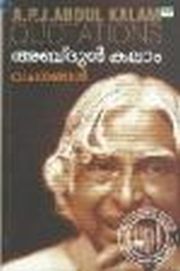 This book is written by A.P.J Abdul Kalam. This book is published by Green books private limited. It is compiled by Suresh M.G. It was first published in September 2015. It was printed in India. It was reprinted in June 2016. There are 110 pages.
In this book there are so much of quotes by A P J Abdul Kalam. There are two speeches also. All the quotes are based on his life and experiences.
One thought that inspired me to face problem is
"Birds find shelter while raining
Eagle fly over the raining sky.
Every problem has a solution."
JAFSA
VIII B
S5198