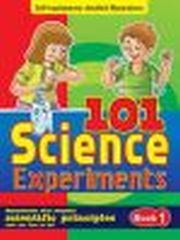 101 SCIENCE EXPERIMENTS (BOOK 1)
Publisher: BPI INDIA PVT LTD
REVIEW
I am very much interested to do science experiment mainly of air, light electricity ect .I also did few experiment such as the invisible ink. I thank BPI publication for writing an experimental book like this.
I am very interested in physics .A few experiments in this book was related to physics .There are 101 experiments in this book.
There is also detailed illustration of how an experiment works . There are pictorial details also and is really useful.The materials required are very simple and which everybody can afford. It is given step by step and so it is very easy to do.
There is also another volume of this book. I hope I could read that book also and do many experiments
Abhiram, 8 A