GERONIMO STILTON HELP,I'M IN HOT LAVA
Publisher: SCHOLASTIC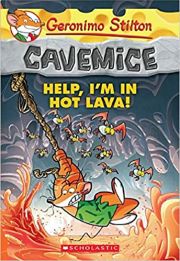 This book was about Geronimo's ancestors Geronimo Stiltonoot. My friend Shreya gave me this book. It was not from the library .
Geronimo has a grandma named Rat Rock. She always scolds Geronimo and his sister Thea always supports Geronimo grandmother. grandma Rat Rock has back pain. Grandma scolded Geronimo for going to find the medicine from cheese land.
They gone to lava with Benjamin Bugsy Wugsy Thea Trap Rat Rock Grandma and Geronimo. First Geronimo said that he will not come after that when Clarissa Congrat said he was so happy and he said we can go. Clarissa was very beautiful rat in new mouse city. From there they faced many problems. after all that they found the cheese la old mouse city and was happy when they returned. They Told the old mouse city the medicine. All were happy
This book was okay.
H ATHILA, VII-B