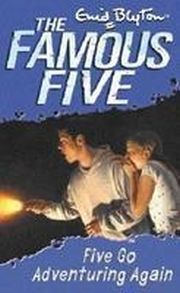 Famous Five: Five Go on Adventure Again by Enid Blyton
This is a very exciting book. Everybody is timid of thieves entering at night, but the Famous Five are not. They even arrested the thief.
Enid Blygon is a familiar author who wrote many books based on adventure and mystery . I like her books very much. She is a lovely writer who writes lovely stories. She is like a mother who narrates night-time sories. I like Famous Five the best. They are so courageous, I don't even have 50% courage they have. They are the real teens who enjoy freedom by camping in the forests, deserts etc.
The stories of Enid Blyton resembles real life. I have emotions when I read the book. I thank the author for writing such a story. I hope I can be one of the Famous Five and face adventures.
Abhiram K, VIII A