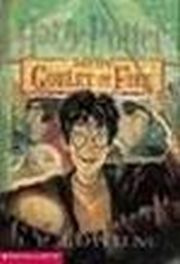 BOOK NAME : HARRY POTTER AND THE GOBLET OF FIRE.
PUBLISHER : BLOOMSBURRY PUBLICATIONS
The best creativity of J.K.Rowling in my opinion is undoubtedly the story of Harry Potter. I never hesitate in taking a book of the Harry Potter series. It is remarkably wonderful. This book is the 4th edition of the whole series. There are 7 books which thoroughly are wonderful. One should read these books in order to understand the actual story. Many of my friends just say that I am mad to take these huge books. One may feel it is too hard to read a big book but what's the point in judging the book without reading it?
This story has lot of characters. Our main character is the brave & lucky Harry Potter. He has got 2 best friends. One is from the Weasley Family who has got 6 children with read heads and his name is Ronald Weasley. Harry calls him Ron. The next is from Granger Family and her name is Hermoine Granger. As this is about the magic world there is nothing here but magic, witches, & wizards. One who comes from a family that has been having 2 or more wizards or witches in every generation is called as a true blood. If they have only had 1 wizard or witch in its generations it is known as a half blood.
Ron in this case is a true blood a Hermoine is a half blood. This story starts with Harry hurting his scar very badly. It is believed that his scar usually hurts when Lord Voldemort is near or is rising to power. Lord Voldemort is a dark wizard in case he is the most fearsome dark wizard. He is called the father of dark arts. 13 years before when Harry was a young baby Lord Voldemort had tried to kill him but could not and he lost all This is a curse which will kill anybody on the spot [as it is said in the book]. And there is only who has survived and he is none other than Harry Potter. Lord Voldemort for all his services is called He-Who-Must-Not-Be-Named or because he is may be feared or hated by every one no one even utters his name and he is called You-Know-Who. This story results in the death of a poor and innosent 6th year named Cedric Diggory. One thing I didn't like is that there is no Quidditch Tournament in this book. But there was an other competition named Triwizard Tournament. There are many rules, regulations, and moreover conditions & age limits which made me furious.
The rest of the story should remain a secret as only then you will be tempted to read the book.